Happy Monday all! Hope this finds you digging into whatever projects you need to get done this week, and making headway on all the things.
After talking about trying to gauge how best to use this space, I felt very affirmed in doing what's come most naturally to me, which is to just share what's going on without worrying too much about curating a specific image or narrow focus. That said, I'd like to share a recent project I documented. If nothing else it will bring some more color to your day.
Let's get started!
Now what?! I just grab things that appeal to me and slap 'em down on the page. My writing is a little like that too; I write those scenes that are most clear to me, then once I've got a flow going I can trace back and add in the parts that should have come ahead of that. It's especially helpful when just getting started.
That's better, but it looks too sparse to me so I'll add some more fun in the form of paints and some tissue papers.
Now when I look at it, something's coming to mind. I can't quite identify it yet, but suddenly I want to flip it the other way around, so the bottom becomes the top, and now there's a person in there.
The circles become the center of a person.
I like this, but there's A LOT going on. It's hard to want to cover it up, but this amount of visual noise is not satisfying. I like the way India inks play with layers, so I'll try to use that next.
Close up!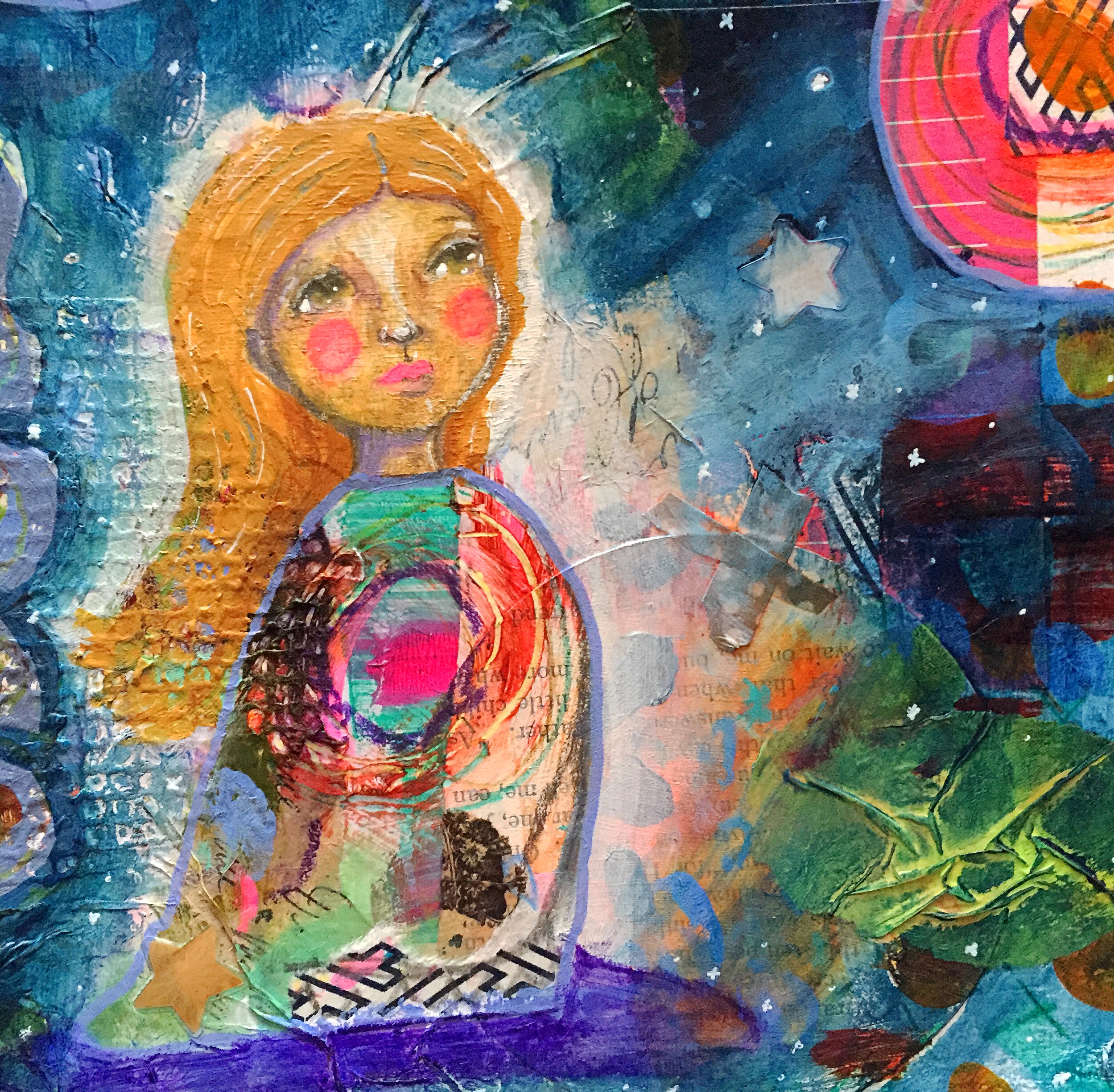 Overall I'm happy with this. What I'm trying to be aware of proportionality, meaning what will work best in a given room. This would probably be best in a smaller area, since the girl is fairly little. I want to begin working larger, but since I work so very s-l-0-w-l-y (in painting as well as writing) something larger would probably take me two weeks to finish. That would be okay but I'm also impatient! A difficult duo to balance!
Hope you've enjoyed seeing a little behind the scenes here today. I'd love to hear about any projects you're working on, and how long it's taking you to get them done!