Sometimes the only thing to do is breathe.
The world is crumbling and the things you thought would hold start to wobble, their stable bases shifting just enough to set them off center.
You get through a few hours, things stabilize for a few moments in succession, but then the wobbling begins again.
|||
Sometimes there's a lull, a quiet period when you start to think things are back to the way they used to be.
Part of you goes back to your routine, welcomes it.
Part of you settles back into the way your life used to be.
The roaring silence becomes part of your soundscape, the elevator music in the background of your day.
You start thinking maybe you've turned a corner. You start thinking things have settled into a new pattern. It's not the pattern you'd wanted or what you'd ever imagined you'd be dealing with, but you can adjust. You can learn to deal with it. You're strong, you're resilient. You've got this.
You got this. Right?
Sure, right. You got this, until something else layers on, something new and terrible, one more spike to the system and then —
Naw, that was a blip, the exception. You get through a few more hours, things stabilize for a few moments in succession, but then it begins again.
Tip…tip…wobble…
  |||
 It's not as simple as just praying through it. It's not as cut and dried as just "giving it to the Lord" — remember those tactics? There was a time when those were the first things you turned to. There was a time when you'd follow the formula and even innocently twist your thinking to make the outcomes align with what was supposed to happen.
That only worked for so long.
After a point, you began to see the inconsistencies. After so many repetitions, you started to notice the things you weren't supposed to question.
The great slow unravelling had already begun when the real life crises set in.
It wasn't right to expect God to answer prayers, even on behalf of his most faithful of servants. We're not supposed to treat God like a vending machine or Santa. You knew that, you tried not to approach faith that way. It made sense that a loving God wouldn't want to have his loved ones treating him like an uncle visiting from afar, asking for bobbles and souvenirs. But the most human part of you screamed it out anyway: "Why don't you DO SOMETHING!" Surely this wasn't something inappropriate to ask, to beg. This was a most basic of needs. You pleaded, "Do something."
|||
The old routines no longer served. You weren't content to just go through the motions, but you weren't content to disregard the truth of your experience, shaded as it may have been. Your beliefs were so ingrained you didn't realize the English you spoke was a dialect unintelligible to many.
So you sought the new-to-you.
You sought the ancient.
Rhythms, air, pulses, seasons, wideness, candles, walks outdoors, grace and ritual.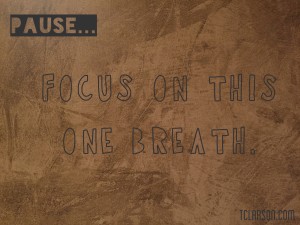 When even these demanded too much energy, you returned to your breath. When the ache of loss and hardship threatened to upend you, you knew you could still breathe. The one breath you knew you could take, the one breath you could use to slow time, slow heartbeat, slow thoughts, slow it all down. That one breath would be the thing you could give yourself when nothing else seemed to help.
Just one breath.
|||
This doesn't make it all better. Loss is still there, grief is still there, heartache, powerlessness, smallness, are all still there.
Getting through a moment is sometimes all you can accomplish.
Getting through one moment can be an enormous struggle.
One breath, if you can give yourself one deep, cleansing breath, you'll find you can give yourself another. And in those breaths, you can find the strength to move forward. It's already in you. You have to pause and breathe in order to find it.