It's been a while since I put up any art journal photos so tonight you're going to get swamped with a bunch. This fun group I'm a part of, Get Messy Art Journal, has been focused on Serenity for much of the summer, and since that's something we could all use more of, I tried to follow along. In the interest of not bombarding, I'll try to just post the journal pages that go with the theme and give a few details about what was going on with a prompt or a challenge.
The first page is in response to the word "goddess" and the challenge to use metallic paint. Too often in the circles I've been in, the mention of the word "goddess" closes down a conversation, with an assumption of pagan leanings and heretical tendencies. I should know, I've had those reactions myself. However, to acknowledge that as a woman I am also made in the image of God and God isn't exclusively male since God isn't a human (not referring to Jesus for now, okay?) — well, that's a welcome breath of fresh air. Plus, this bronze paint was gorgeous and this picture doesn't do it justice.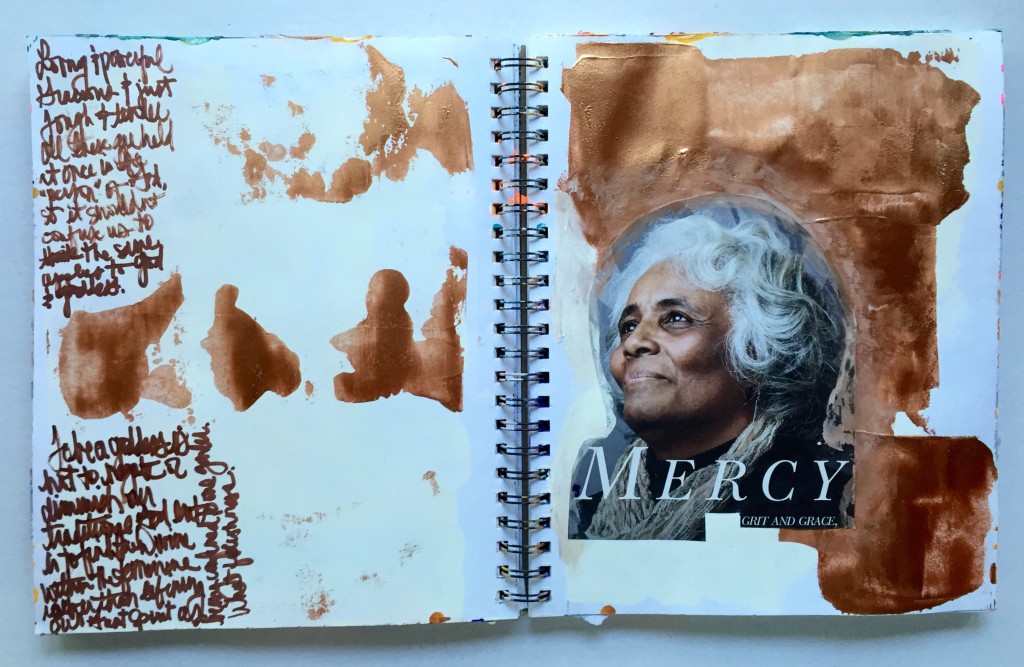 We had another challenge and that was to use a certain technique that might be new to us. It was new to me. I don't love the way it turned out, but it was fun to try something different. We layered washi tape then paint and pulled up the washi tape before it could set. Let that dry, then do another layer. Here's the end result…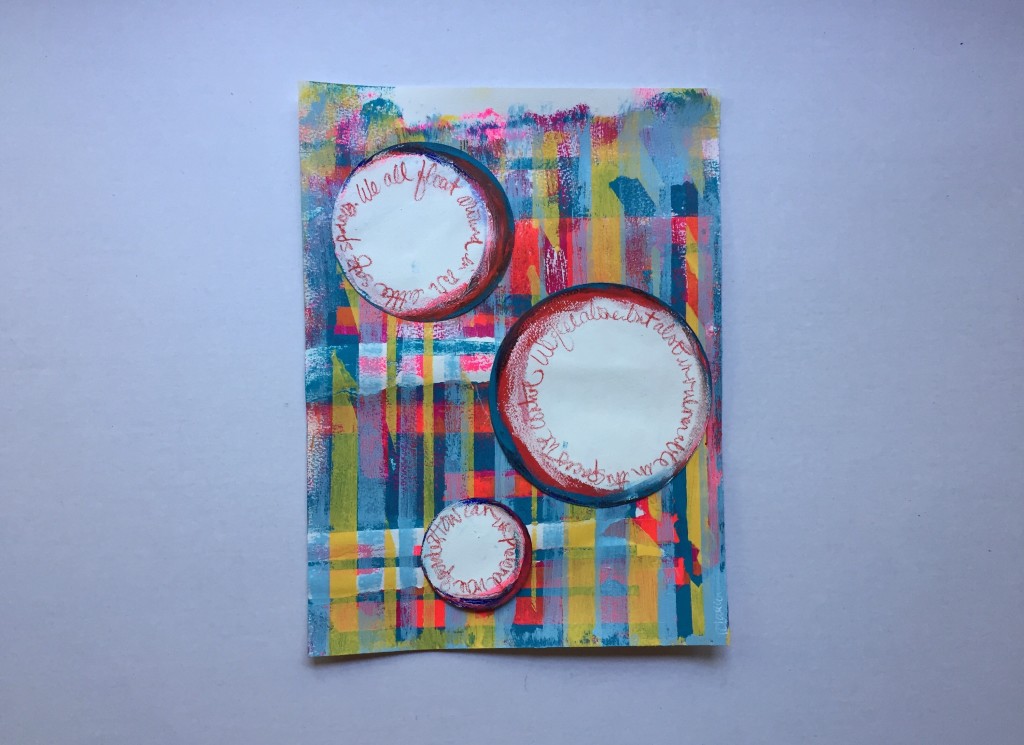 The next pages were trying to focus on "serenity" while also using materials from a craft swap don't in the Get Messy group. Lauren sent me fun things from England, and England brings fun memories of times spent visiting there, so clearly these were fun pages to make. (Lauren, can you spot the swap goodies you sent me?)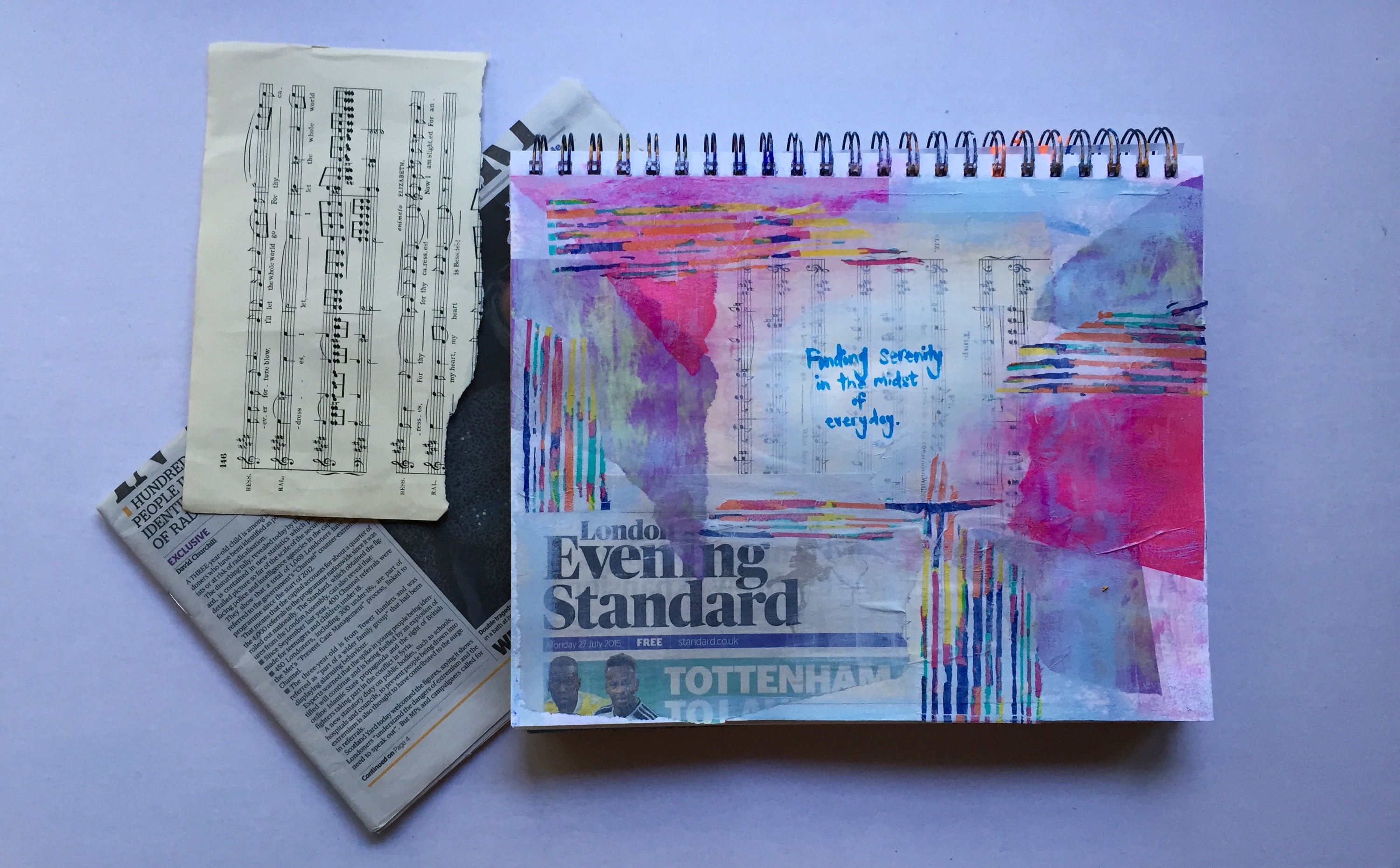 Aren't these little chicks sweet?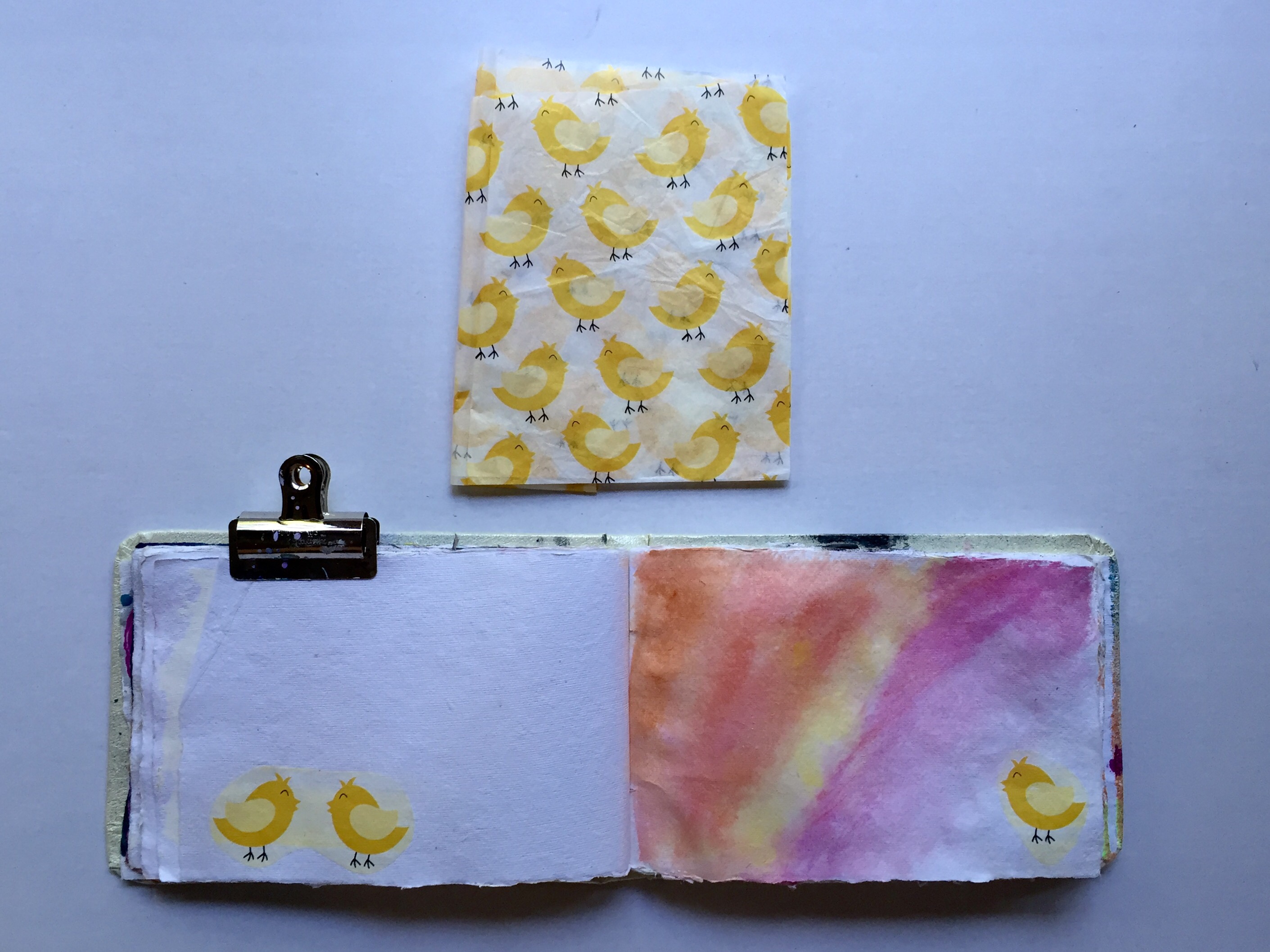 Even though skulls have been more plentiful in recent years, I haven't really gotten into them. So it was interesting to mess with them on this page and see what that evoked in the process. I'm not crazy about this page, but it was a good stretch for me.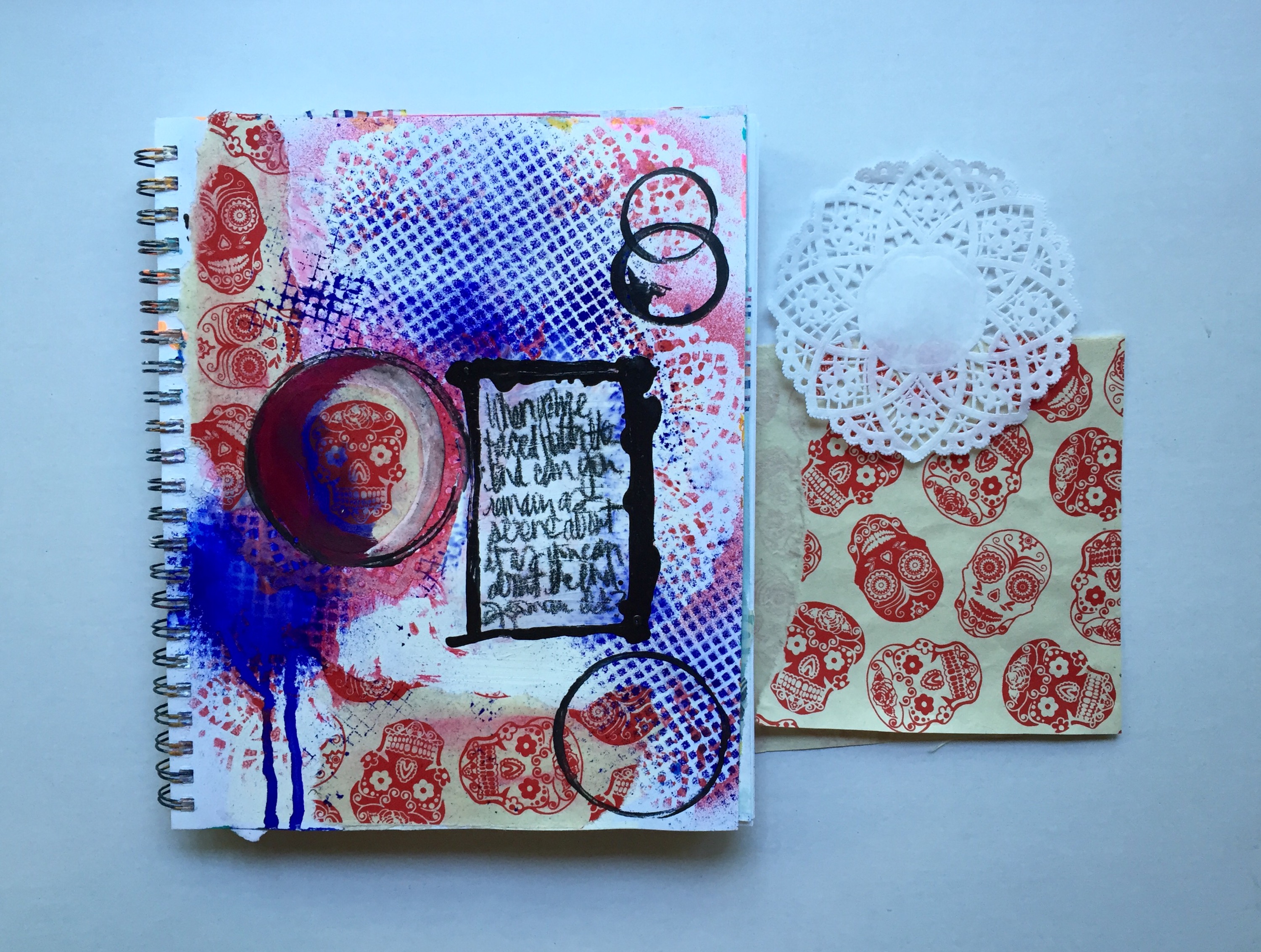 This one got a little wild, but I love the end result. See how I tried to practice restraint and the use of white space? No? Can't see it? Well I WAS trying, so imagine what it would look like if I wasn't trying!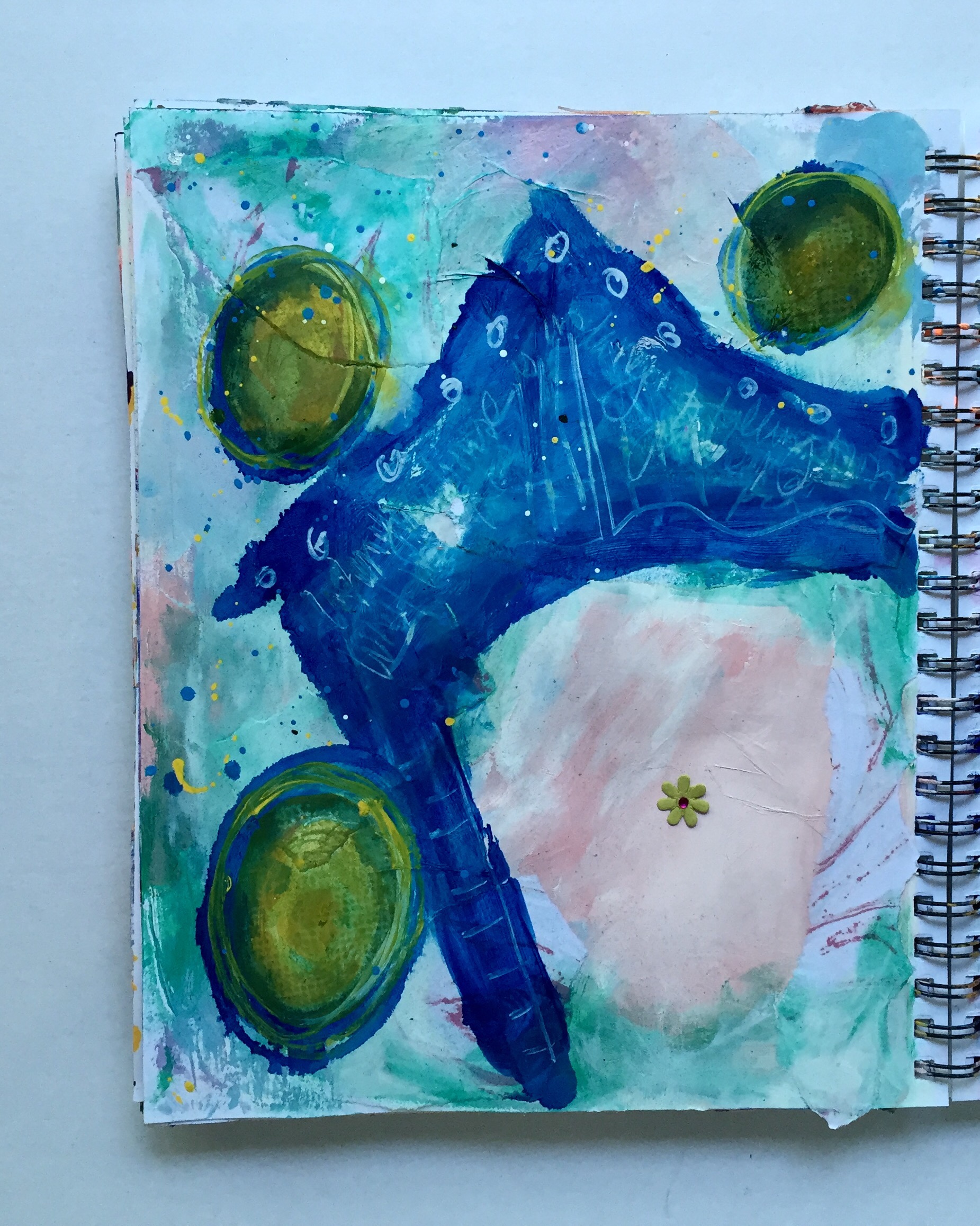 That's all I have for this time around. Did you sense a theme of me not loving my pages? That's okay. I think there's still value in sharing them, because it's all part of a process and what we don't like today we might feel differently about tomorrow. And even in those pages that don't soar, there are always flutterings — a section here or a color combo there — that are part of letting go and getting out of your own way.
There were other pages, but they were on their own and I'm trying to stay focused here. Otherwise your eyes will start to blur and we can't have that. As always, thanks so much for reading! Have a wonderful holiday weekend!
Question time: what comes to mind when you think of serenity? Do you ever see it in your every day life? What practices cultivate serenity in you?